• Great Place to Work (GPTW) is the most prestigious recognition in people management and business strategy, both nationally and internationally. It is annually granted to the best employers in the world.
• After being the first Spanish offshore wind developer to achieve this certificate in 2020, OW's Headquarters has renewed this recognition in 2021, a year in which its team has increased by 30% in the country.
• The company receives this award for the first time in the UK, during a year in which it has also increased its team by 25% compared to 2020, for its commitment to generating employment and attracting new talent.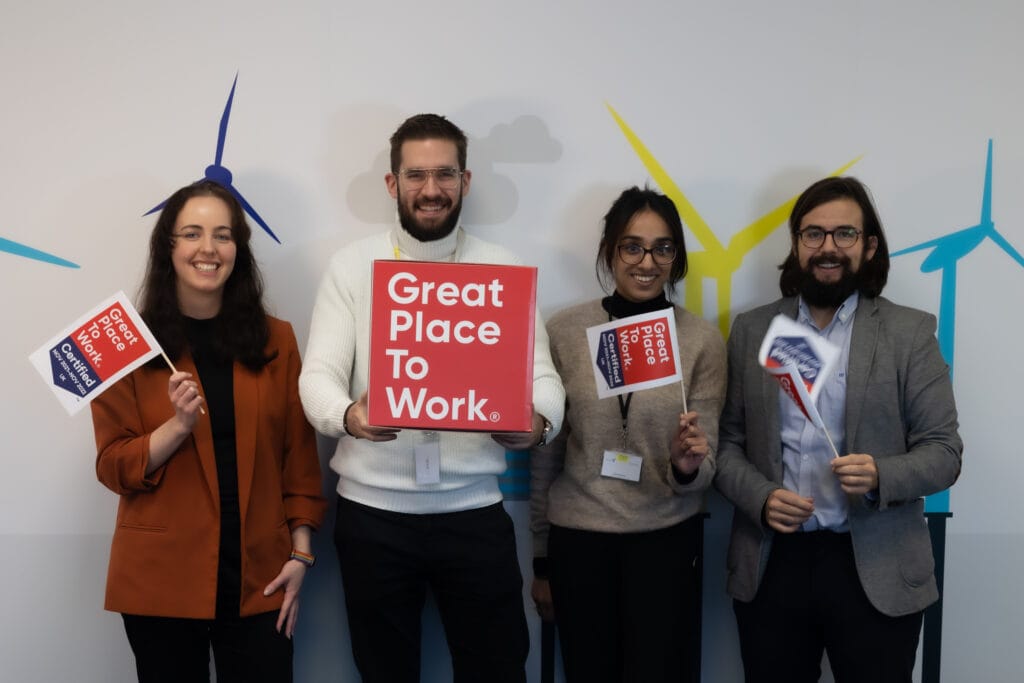 Ocean Winds (OW), an international offshore wind energy company created by EDP Renewables (EDPR) and ENGIE (50:50), has achieved the Great Place to Work certification in Spain (Headquarters) and the United Kingdom, granted by the consultancy firm Great Place to Work® (GPTW), leader in the recognition and certification of distinguished places to work. It´s the first time that OW receives this certification in the UK and the second time in a row in the Spanish market.

These GPTW certifications are obtained after an organizational environment independent diagnosis, which includes a global survey for employees; so the consultancy determined Ocean Winds is a company with a reliable culture, able to attract and retain talent.

In 2021, OW has worked hard to offer its employees around the world the best environment in order to renew and amplify this recognition. Through this commitment, OW has increased its team in Spain's headquarters by 30% over the last year, aware that human capital is the most important asset of the company, and that will help it to continue leading the offshore wind industry and the global energy transition. For these reasons, Spanish employees trust in the company has increased by 9% compared to 2020, a key indicator of Ocean Winds' excellence as an employer.

Parallel to this, OW has achieved the GPTW certification for the first time in the UK, this certification has a double significance because OW has obtained it during a complicated year due to the pandemic. All the company's operations have been developed combining physical and remote work, during a challenging year where Moray East, Scotland's biggest offshore windfarm, has exported first power to national grid and has celebrated the installation of the last of its 100 turbines at sea, -the last milestone towards the full operations expected by 2022. In addition, OW has opened a new O&M base in Fraserburgh (Scotland), committed to local area -more than 70% of hires were local candidates-, and collaborating with local schools in employability activities to help future talents starting their own path.

Also, OW has significantly increased its team in this market (25% compared to 2020), as a result of its commitment to generating employment and attracting talent, including hiring new O&M profiles and creating opportunities for young professionals in collaboration with national universities.

Bautista Rodríguez, CEO of Ocean Winds, has said "Both recognitions are especially important for us in these difficult times. The certifications reveal OW's commitment to retain and attract talents. We are on the right track, and these certificates are the reflection of an excellent year for the company. We hope to continue attracting the best talents for the great challenges that we will face in the coming years."

According to Estrella Martin Segurado, Chief People & Organization Officer de OW, "Obtaining this highly reputed certification is very important not only for us and our team, but also for our future new colleagues and stakeholders. Being recognized as a Great Place to Work guarantees our excellence among the highest standards in the business world. Our target is to work and achieve these results in the rest of the markets, as we have already achieved in Spain and the UK."

OW celebrated its first anniversary in July 2021. The company has already more than 320 employees worldwide representing more than seventeen nationalities, with higher education level and a third of female representation, above the industry average. Additionally, OW has 99% of permanent contracts.